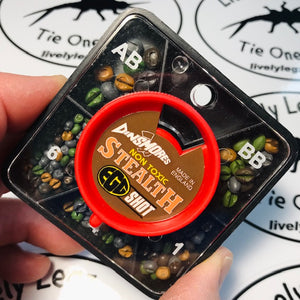 Dinsmores Non Toxic Stealth 5 Shot
Dinsmores Stealth 5 Shot, Environmentally friendly, egg-shaped shot that casts great! The Stealth-5 Shot Multi-Pack includes AB, BB, #1, #4, and #6 shot. Aerodynamics let the shot fly better and hydrodynamics sink the weight faster. Shape helps the shot grip your tippet better, and they are coated with naturally colored cushion. 
Includes sizes: AB, BB, #1, #4, #6.